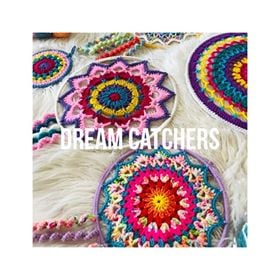 Dream Catcher Yarn Kits which go with the Flower Dream Catcher Pattern available on the Website.
Here are the yarn Kits which can be used to make your Dream Catcher. There is enough yarn to create the larger Dream Catcher and there should be enough left over to make the smaller Dream Catcher.
Some kits are wool and some are acrylic yarn but all are 8 ply yarn. You can find the Pattern for a Crocheted Flower Dream Catcher which goes with the kit available on this Website.. (It is sold separately.)
The Crochet Hook you use to create your Dream Catcher will make the finished size of your Dream Catcher vary, depending on the type of yarn used.
I always suggest that you make the Dream Catcher first them go shopping for the metal hoop to attach it too. Some people like their Dream Catchers pulled tightly others like them to be a little loose.