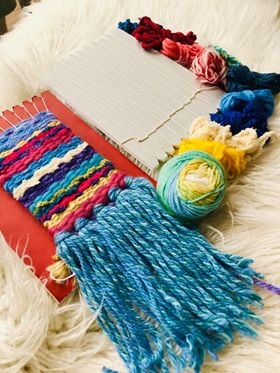 Little Weavers First Loom with Fibre Pack and Instructions
Weaving can be creative and fun to do. You can use lots of different coloured yarns and yarns with of different thickness and textures to create some beautiful Weavings.
This Kit come with a sturdy Cardboard Loom with indentation at the top and bottom. The warp stings come already warped around the Loom so you are ready to start weaving. You get a Fibre Pack of different coloured yarns, and of different thickness. The Kit includes a dowel stick for hanging and a Little Weavers Instruction Guide. This guide will explain how to warp up the Loom, take off the weaving and tie it onto the dowel for hanging.