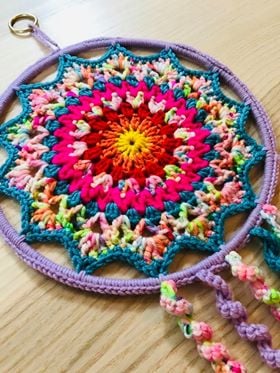 Flower Dream Catcher Crochet Pattern, plus Mini Dream Catcher Pattern.
Dream Catchers were traditionally made and hung to protect people, usually children from having bad dreams. Good dream supposedly pass through and gently slide down the tassels to comfort the sleeper below.
This Pattern is designed to be crocheted using 8 ply yarn. I have a variety of Dream Catcher Yarn Kits available on this website which are made to go with this, Flower Dream Catcher Pattern. You also get a bonus Mini Dream Catcher Pattern included in the one Pattern.
The Pattern will be emailed to you within 24 hours of making your purchase.