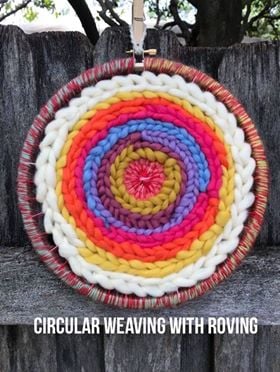 Circular Weaving with Wool Roving Kit 2
Circular Weaving is a very relaxing way to weave. You start weaving around the centre, weaving over and under the warp threads. As the spokes on the Circular Loom grow wider and further apart towards the outside you gradually work with thicker fibres.
This Circular Weaving is made with Wool Roving and using a weaving technique called a Soumak Braid.
This Kit comes with Circular Weaving Guide which details different weaving techniques which can be created on a Circular Loom. Included in the guide are step by step pictures and information about how to create the Soumak Braid on your Loom.

The hoop is 24cm in diameter and comes warped up and ready to weave. You also get all the colourful fibres for weaving. I have also included some yarn to wrap around the wooden hoop